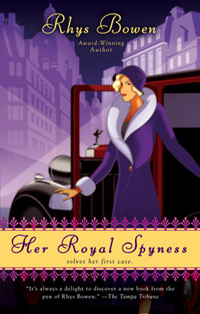 Her Royal Spyness
by
Rhys Bowen
Publisher
- berkley
Publish Date
- 7/1/08
Genre
- Mystery
Buy on Amazon
Goodreads
I first heard about this book from a daily news email called
The Skimm
. First things first – if you haven't heard of The Skimm, just go sign up for it. I really hate the news but still want to know what's going on in the world and The Skimm takes care of that for me. It's an easy, fun, cheeky way to get your daily news without being depressed at the end of it. You won't regret it, trust me.
Now that we've got that out of the way, let's talk about this book. I can't say that I'm very well read in British authors but I do enjoy a good English jaunt every now and again. Her Royal Spyness is CLASSIC British murder-mystery comedy at its finest.
Lady Victoria Georgiana Charlotte Eugenie is the main character of this story and she just happens to be 34th in line for the throne. She is broke and decides to run away from her brother's boring, prison-like estate in Scotland to try to make her own way in the world. Growing up royalty, she has virtually NO basic survival or home making skills. Hilarity ensues as Georgie attempts to learn how to light her own fires and make a few bucks by cleaning other people's houses incognito.
Upon her arrival in London, the Queen calls on her and gives her a mission. She wants Georgie to spy on her son and report back on the horrid woman he is intent on marrying. Then, a Frenchman shows up on her doorstep and threatens to take away her family's entire estate. When the Frenchman ends up dead, Georgie has to work to clear her family's name.
This story engaged me from the very first page. I couldn't help but love Georgie and was desperate to see what sort of hilarious situation she got herself into next. It was funny, charming and (from an American's perspective) so gloriously BRITISH. This was the perfect beach read – easy and light. This was the first book by Rhys Bowen that I've read but it will not be the last! I will definitely be going out to pick up the rest of the Royal Spyness series.
I first tried this wine at a wine festival and fell in love with it. Delfosse Vineyards is a local winery to me here in Virginia and they have some really great wines! To pair with this funny, light hearted novel, I wanted something easy drinking and light. Rouge Cerise is made from 100% Merlot grapes with a soft, sweet flavor of cherries and a little bit of spice. It's a perfect summer wine and even tastes delicious served cold. This wine did cost a bit more than my usual budget allows ($22) but it was worth every penny.