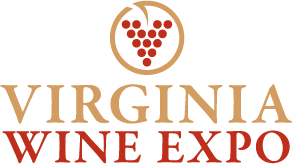 This past weekend, I got to cross something off my bucket list - attending the Virginia Wine Expo. Even though I have lived in Richmond for like 11 years now, I had never attended this event. INSANITY.
Let me start off by saying that my husband got us tickets for the expo as my Christmas gift this year - best gift ever! But he also gave me the tickets in a really adorable way. He sent me on a little scavenger hunt through the house to find them and the final gift was hidden in the tree, complete with a wine bottle ornament!
So, I've known since December that we were going and I've had a countdown on my phone. I was SO excited. I had heard a lot of stories from people who had been in previous years and they said it was so crowded, hard to taste all the wines, too much waiting, etc. I tried not to let any of that get in my head and I stayed pumped for this.
Did I mention that we got VIP tickets? No? Well - we did! Basically, the VIP tickets let you in 2 hours before the "normal" crowd. So, we got to start our wine tasting adventure at 10am rather than noon. I know what you're thinking, 10am and drinking wine!? As long as you eat a balanced breakfast, it's totally fine.
We took our first Uber ride ever and got to the convention center right at 10am. Let me tell you - the early admission ticket was TOTALLY worth it. There was hardly anyone there for the first 2 hours so we got to taste wine at a nice, leisurely pace. My husband's cousin, wife and a friend of theirs met up with us about 2 wineries in and we were off!
Every year they feature a different country at the Expo and this year it was Italy. I was pretty excited about getting to taste Italian wines because I don't typically drink many from there. I was not disappointed. They even had this cool card that you could scan a QR code and it would tell you where to find the yummy Italian wines you tasted. These were some of my favorites:
Not only did they have over 70 Virginia wineries featured at the expo, they had food, cideries and craft vendors too. We ended up bringing home some awesome gourmet ketchups from

Chups

which were amazing. The spicy pineapple was to die for and I ended up putting it on top of the hot dog I consumed that afternoon. Go check them out - you can make all sorts of yummy sauces and appetizers with their products. We brought home the sampler pack and a full size of the spicy pineapple.
The winery that, in our opinion, won best in show that day was

The Homeplace Vineyard

. Upon approaching their table, we could tell that this was a small, family operation and didn't know what to expect. Well, they blew the competition out of the water. We brought home 3 bottles of their wines, but easily could have bought more. Their Old Tractor Red and White are phenomenal every day drinking wines. We also bought their Vidal Blanc which was seriously smooth and delicious. I'm not usually a fan of whites so when I find one I like, I get excited. They also had a Chardonnay made with hops that was amazingly delicious!
All in all, it was one of the best days ever and it really never got crowded to the point that I was annoyed. We never had to wait long for a tasting and with that many wineries to choose from, if one was busy you could just move on. My favorite thing they did was will call. You could buy wines at each vineyard and fill out a will call ticket and pick everything up before you left. It was so nice that we didn't have to haul our purchases around with us. The only "bad' part was that it was hard to keep track of what we bought. So when we ended up at will call at the end of the day, we had 10 bottles waiting for us. Oops.
It was an amazing day and I can't wait to go back next year. Hopefully all these bottles will be gone by then!